QuickBooks
ELIMINATE DOUBLE DATA ENTRY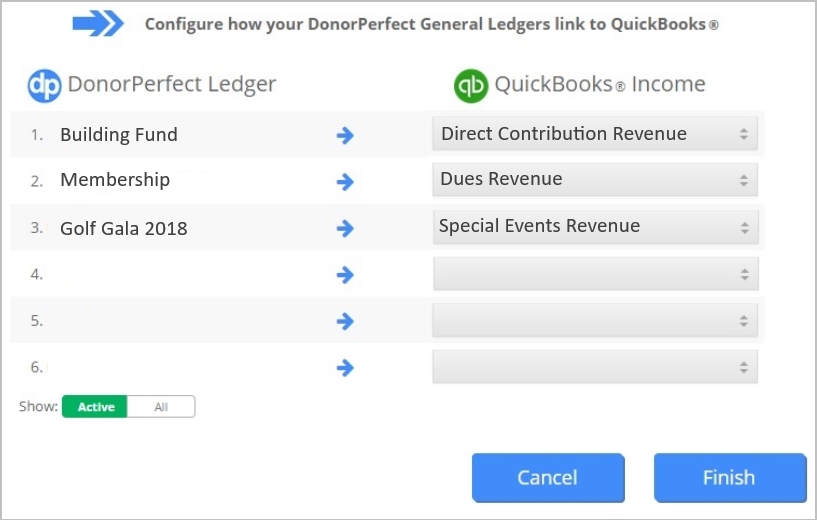 Click Image to Enlarge
Seamlessly and securely manage expenses, financial statements and non-donor revenue with QuickBooks while benefiting from DonorPerfect's specialized features for managing donor, gift, and pledge data. Whether you use QuickBooks Online or QuickBooks installed, DonorPerfect has a way to connect your gift data with your accounting software so you only have to enter data once – even if you have multiple bank accounts!
QuickBooks Features
Both Installed and Online
Post to your existing General Ledger system
Configure how your gifts post to QuickBooks
Send transactions to multiple bank accounts
Detail and summary listings
Map gifts to bank accounts, income accounts, classes
Manage staff access for data entry tasks
QuickBooks Installed
Import DonorPerfect data files into QuickBooks
Creates bank account and income account entries
Send transactions to multiple bank accounts in one file
QuickBooks Online
Send gifts from DonorPerfect to QuickBooks in one click
Creates journal entries and transfers transaction detail
Quick access filters for posted/unposted gifts and more
View a history of posted gifts
Customize data and formatting
Post as individual gifts, daily or monthly summaries
Ability to map your donors to QuickBooks customers
QuickBooks Online Simple Setup
DonorPerfect makes it easy to set up through a step-by-step guided process. Simply choose the real-time QuickBooks Online bank account and map Income Accounts right from DonorPerfect. These can be changed in your DonorPerfect settings at any time
I love the simplicity of DonorPerfect on my end as a user. I have worked with other programs, and DonorPerfect has, by far, been the easiest to learn and to integrate.
Learn More about QuickBooks