Reporting & Data Analytics
KNOW YOUR METRICS. GROW YOUR MISSION.
Click Image to Enlarge
With DonorPerfect's reporting features, your staff will have the information they need, right at their fingertips. Decades of user feedback and advice from nonprofit experts have helped us to develop crucial reports like the Association of Fundraising Professionals – Fundraising Effectiveness Project (AFP-FEP) report and quick-access metrics on your dashboard so you can measure your success and tackle your organization's goals.
Compare DonorPerfect's Reporting Tools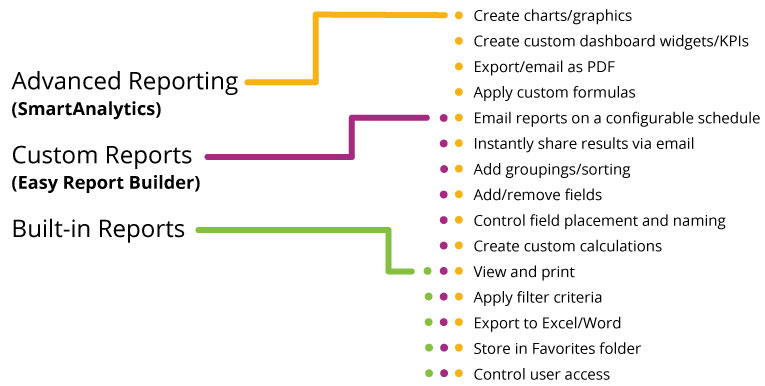 Reporting and Data Analytics Features
See how you're doing with dashboard metrics
Quickly access real-time stats and graphs
Toggle between organizational and personal dashboards
Edit your dashboard layout
Add your favorite reports
Choose from several built-in reports
Run 70+ standard nonprofit reports
Build unlimited customizable filters
Apply filters and settings from the report sidebar
Export data to popular formats like Excel and Word
Create custom reports with Easy Report Builder
Group, sort, sum, average, and count data
Schedule reports to be emailed in intervals to anyone
Password-protect your emailed reports
Export data in popular formats
Get even more detailed with SmartAnalytics
Create advanced analytics for power users
Request a custom report, created by our staff
Auto-send results to stakeholders as data is updated
The scheduled reports helped our president, our biggest fundraiser, to solicit more funds. Because of these reports and the dashboard that we created for him, he could really focus his time and effort on soliciting the most ideal donors."
Learn More about Reporting & Data Analytics